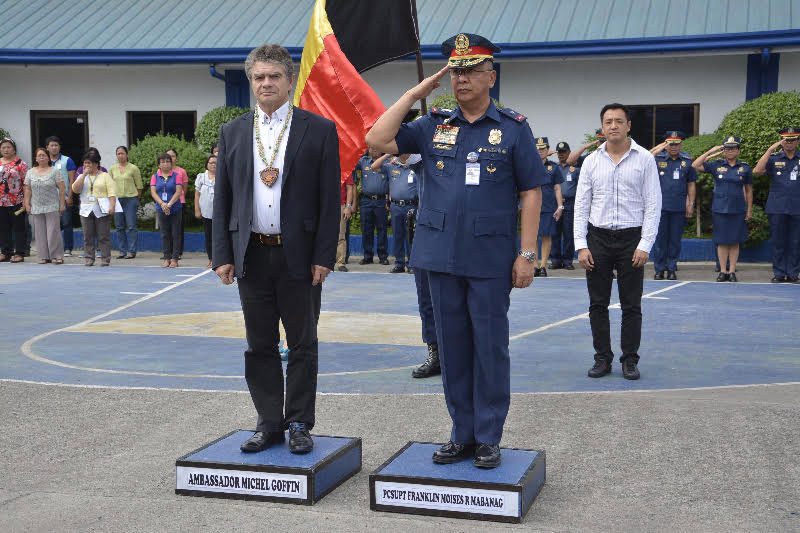 Deputy regional director for administration of the Police Regional Office (PRO)- 7 Franklin Moises Mabanag(left) announced the advisory during the visit of Michel Goffin(right), Belgium's ambassador to the Philippines, at PRO-7 yesterday. FREEMAN
Following wave of NPA attacks: Tourists warned on rebels
CEBU, Philippines — Police in Region-7 have advised tourists to shorten their trips to Negros Oriental owing to "problems" involving armed rebels.
"We advise them (tourists) to not stay longer in Negros Oriental because of some problems," said Franklin Moises Mabanag, deputy regional director for administration of the Police Regional Office (PRO)- 7.
Attacks and ambushes allegedly perpetrated by members of the New People's Army (NPA) were recorded this year in Guihulngan, a town north of Negros Oriental about four hours away from capital Dumaguete City.
In contrast, cause-oriented group Bagong Alyansang Makabayan (BAYAN) held protest rallies in October this year over farmers allegedly mistaken as NPA rebels, and allegedly killed by soldiers hunting down NPA members.
Negros Oriental, a province located in Negros Island, is a short distance away by boat from Cebu Island.
Mabanag announced the advisory during the visit of Michel Goffin, Belgium's ambassador to the Philippines, at PRO-7 yesterday.
During the visit, Goffin raised security concerns that may harm Belgian and other foreign tourists, albeit clarifying the concern is not exclusive to the Philippines.
"But we are really concerned about terrorism so we really want to cooperate very closely with the police in terms of problems," Goffin said.
Even with the advisory, Supt. Reyman Tolentin clarified tourists are not barred from going to Negros.
"Wala pay direct clearance nga bawal bumisita sa Negros Oriental…(but) as of these days, naa'y threat ang Negros Oriental kay presence sa pikas (in reference to NPAs)," Tolentin said.
He advised foreign tourists to contact the local police, perhaps leave a copy of their itinerary with the cops, should they decide to visit Negros.
"If naa'y gusto muadto didto, we advise to cooperate with security forces to make sure nga mahatagan sila security. Dili ko moingon ayaw mo og adto or muadto nga pipila lang ka gutlo or oras. If mu-coordinate ta sa Negros Oriental Police Office or Armed Forces of the Philippines nga adto na assign, mas makatabang nila to ensure their safety," Tolentin said.
Mabanag said Internal Security Operations (ISO) are ongoing in Negros Oriental to quell rebel activities there.
"Not only for the foreigners from Belgium but also from other countries are being secured here in Cebu, not only in Cebu but also for the whole Central Visayas, especially in Bohol, Northern and Southern part of Cebu," Mabanag said.
Goffin, for his part, said:
"Here in the police department, we learned that it is safe for tourist to come to Cebu and the police assured us that security is guaranteed. We are told that there aren't many problems with Belgian tourists and it's pretty safe, it's very good here," Goffin said. (FREEMAN)