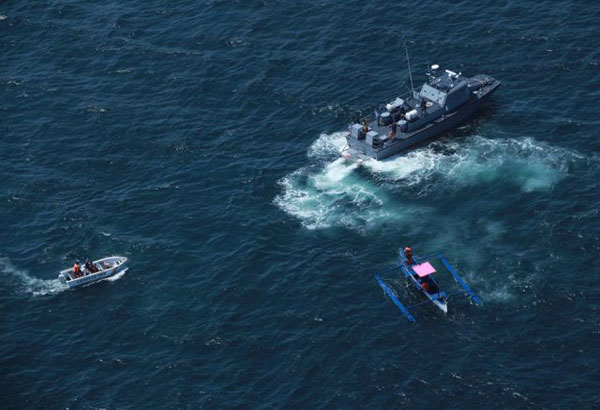 A Navy Multi-Purpose Attack Craft on patrol. File photo
It's ADMU Blue Eaglets vs Colegio de Sta. Ana in finals
CEBU, Philippines - The Ateneo de Manila University Blue Eaglets and Colegio de Sta. Ana de Victorias (CSAV) will meet today for the championship of the San Remigio Properties Invitational Tournament after topping the four-team elimination round yesterday and Friday at the Magis Eagles Arena of the SHS-Ateneo de Cebu in Mandaue.
The Blue Eaglets trounced host SHS-Ateneo de Cebu, 88-59, behind the leadership of SJ Belangel's 29 points, then ousted Western Leyte College of Ormoc, 87-78, to take second spot with a 2-1 record behind CSAV (3-0). CSAV swept the group with convincing wins over WLC, 87-67, and SHS-Ateneo de Cebu, 83-65 to take the first place in the team standings.
The Blue Eaglets recovered from their opening day loss to CSAV with a big win over their brother Jesuit school with Belangel leading the rampage with 23 first half points, setting the tone for the win early in the game. Playing before a full-house crowd of Magis Eagles fans, the Blue Eaglets started out hot and never looked back, taking leads of 27-15 and 55-30 after the first two quarters.
It was cruise control all the way to the end. Belangel topscored with 29 points, including three triples. Joaqui Manuel had 11 while Jason Credo and Dave Idelfonso had 10 apiece. Patrick Yu led SHS-Ateneo with ten. The Blue Eaglets not only had to deal with the Magis Eagles on the court.
They were swarmed after the game for photo opportunities by Magis Eagles fans, with all wanting to have a picture taken with the country's tallest player in Kai Sotto, the seven-foot 15-year old prodigy from Ateneo de Manila.
Sotto and Ildefonso took charge for ADMU against WLC, combining for 22 points. For CSAV, Jeffery Manday once again stood out, leading the team with 25 points including five triples against WLC. He then scored 23 against SHS-Ateneo de Cebu, slowing down somewhat from trey land with three triples. Jeric Adorio led CSAV against the Magis Eagles with 26.
Manday will be the marked man for CSAV after he scorched ADMU with 39 points, including nine triples. Adorio and import Junior Essakadoulla are expected to challenge the inside game of the Blue Eaglets. For ADMU, Belangel will have his hand full against the veteran guards of CSAV who are four years his senior.
Sotto, Ildefonso and Miguel are also expected to step up for the Blue Eaglets who were on their way to defeating CSAV in their first game, but crumbled under the pressure of the pressure from the veteran-laden CSAV side. Game time for the championship game is at 10:30 a.m. today after the game for third place between Western Leyte College of Ormoc and SHS-Ateneo de Cebu. (FREEMAN)