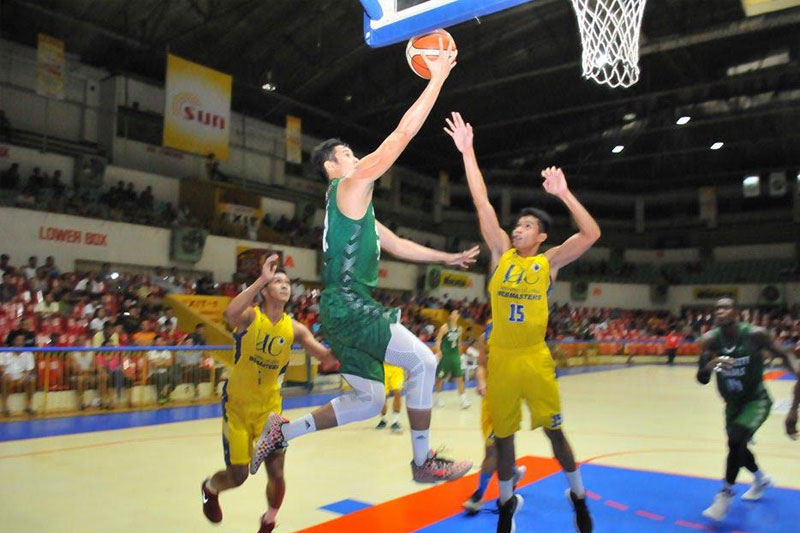 Jerome Napao of UV goes up strong into the hoop during their CESAFI collegiate basketball match against UC last Sunday night at the Cebu Coliseum. UV won, 65-62, to firm up its grip of the collegiate division lead with a 7-1 win-loss record. Paul Jun E. Rosaroso
Warriors battle Panthers anew
CEBU, Philippines — The University of San Carlos (USC) Warriors will try to reaffirm their dominance over the University of Southern Philippines Foundation (USPF) Panthers when they clash anew in the 17th Cebu Schools Athletic Foundation, Inc. (CESAFI) men's basketball tournament today at the Cebu Coliseum.
Game time is set at 6:45 p.m.
The Warriors pummeled the Panthers, 86-57, during their August 12 duel and they are poised to score a repeat with eyes trained on improving their 6-2 win-loss card.
Coming off a close 59-55 decision over the Cebu Institute of Technology-University (CIT-U) Wildcats that ended their two-game slide, the fully-recharged Warriors hope to pile up more wins and they need only two to virtually assure themselves of a spot into the round of four.
The Panthers, on the other hand, have a mountain to climb with only two wins in seven games, so far. Tied with the Southwestern University-Phinma (SWU) Cobras for the second worst record in the collegiate division this season, they need one big miracle to keep their semifinals bid alive.
In the juniors division match at 5:15 p.m., four-time champion Sacred Heart School-Ateneo de Cebu (SHS-AdC) Magis Eagles are tipped to log their seventh victory as they take on the USC Baby Warriors.
The Magis Eagles kept their hold of the solo second spot with a 6-1 slate after whipping the University of Cebu (UC) Junior Webmasters, 66-52, in a grudge rematch of the league's finalists for the past two years, while the Baby Cobras hold an even 3-3 win-loss mark. (FREEMAN)