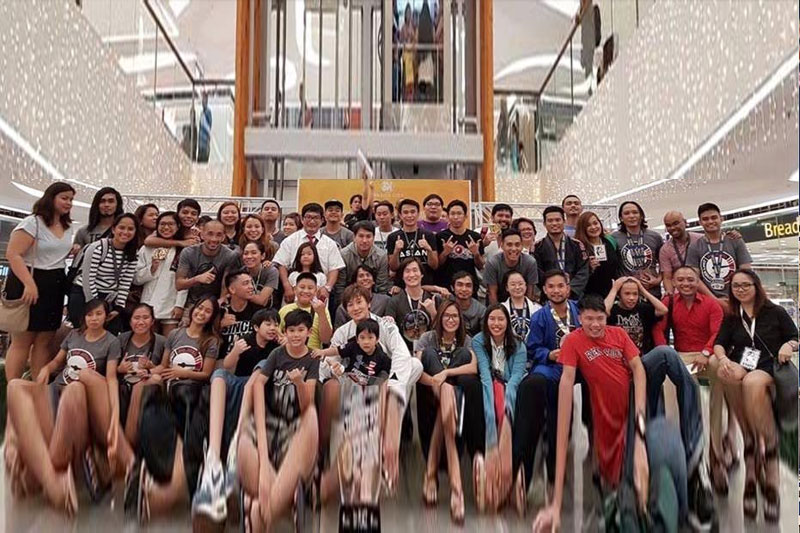 The members of Overlimit Jiujitsu Academy celebrate after winning the overall title in the Gi competition of the Dumau Philippine International Open over the weekend at SM Seaside City. Contributed Photo
Overlimit, ATOS rule Dumau Jiujitsu Open
CEBU, Philippines — The Overlimit Jiujitsu Academy Cebu and ATOS Jiujitsu dominated their respective events during the 2017 Dumau Philippine International Jiujitsu Open over the weekend at the Mountainwing of SM Seaside City.
Overlimit grapplers grabbed the team championship of the Gi event, while Atos reigned supreme in the No Gi action.
Spearheaded by Japanese blackbelter Edison Kagohara, Overlimit harvested 13 gold, 12 silver and eight bronze medals, while Atos wound up second with their 11-9-4 gold-silver-bronze haul. Deftac Ribeiro placed third with their 9-7-4l tally.
Atos, which is composed of fighters from Cebu, Cagayan de Oro, Manila and San Diego, California, came out top with five golds, nine silvers and one bronze, while Pato Studio (4-4-7) and Deftac Ribeiro (6-2-1) placed second and third, respectively.
Aside from the local grapplers, Dumau Open was participated in by elite fighters coming from Asia and United States.
Despite the stiff competition, Cebuanos shone in the two-day tilt. Some of the gold medallists were Jenny Fernandez of Pato, Freska Tejam of Deftac and Prish Balingcogan of Overlimit in the women's Gi, while Josh Ybañez of Atos, Enzo Doamaolao of Overlimit and Lancelot Gacasan showed their stuff in the kids action.
The gold medallists in the combined adults and masters class in the Gi were purple belter Jason Mondigo of Overlimit, Lemuel Maglinte, Ramil Pacaña and Reece Theodore Parangan of Atos, Rhyle Lugo of Deftac and Peter Corazo and Kurt Ocenar of Pato.
Those who excelled in the No Gi were purple belter Leo Gaerlan of Atos, Daryll Garcia and Joseph Benavidez of Pato, Arnel Ylanan of Deftac and Rachelle Montano of 98 BJJ. (FREEMAN)