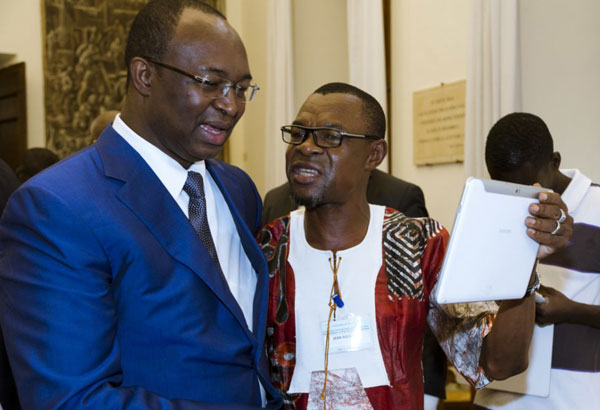 Abdoulaye Miskine's Democratic Front of the Central African People (FDCP) representative Jean-Rock Sobi, right, and the Union for Central African Renewal party (URCA) President Anicet Dologuele shake hands after signing the Political Agreement for Peace in the Central African Republic at the Sant'Egidio headquarters in Rome, Monday, June 19, 2017. Members of 13 Central African Republic's militant groups signed a preliminary agreement to stop the civil war, reaffirm the unity of the country, and the respect of human and civil rights. (AP Photo/Domenico Stinellis)
Central African Republic, armed groups sign deal in Rome
(Associated Press) - June 19, 2017 - 11:05pm
ROME — Representatives of most of the armed groups in Central African Republic have signed an agreement to honor an immediate cease-fire after more than three years of sectarian conflict that have left thousands dead.

The announcement yesterday in Rome followed negotiations between Central African Republic's nascent government and 13 of the 14 armed groups currently active in the country where more than 500,000 people are internally displaced.

A Rome-based Catholic organization, the Sant'Egidio Community, mediated the deal.

Negotiators hailed the accord as an important step, although governments in Central African Republic over the past decade have signed scores of deals with various rebel groups only to see them fall apart. Fighters on the ground don't always respect terms and issues over disarmament and reintegration into the national military are delicate.